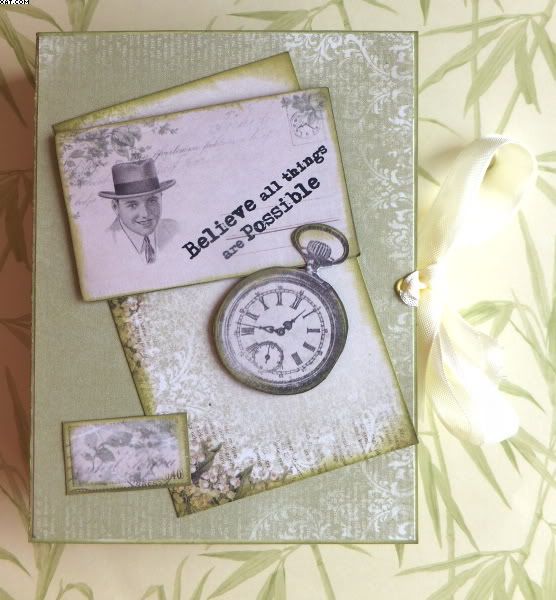 This is a little tea-light gift book I made at our Spring retreat but this could be decorated and filled with anything as a lovely gift idea. It takes the form of a book cover containing a box to take 6 tea-lights and is secured by a piece of seam binding.
Once more it is covered with Pion 12 x 12 in scrapbook papers available fom
3D Jean
. The papers are beautiful and are very subtly coloured and all elements of the book use these papers.
The book cover is decorated with a number of embellishments cut out from the papers (fob watch, mini postcard and stamp) with some layered on foam pads. The only stamp used was the wording on the postcard !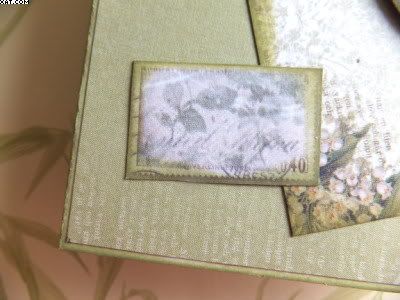 The inside front cover is embellished with a label die cut from the candle box front with a Nestability die. This was edged with moss green chalk ink before adhering. A butterfly was trimmed out from the papers and also stuck in place.
The candle holder box, covered with more paper and the aperture lined with clear acetate before sticking in place on the inside back cover.
Final touch was to add two pale green eyelets with the crop-a-dile tied through with a double length of pale cream seam binding tied in a knot through each eyelet. These were tied in a bow to secure the book closed after filling the box with tea-lights.
The box could be filled with sweetie treats or anything else for that matter dependant on the purpose and decorative theme of the box.
Sid xx
Pin It