No not Bed & Breakfast !! .............. but Box & Brooch to be more precise.
This brooch came about as my creation for Janet ........ one of our little band of crafters who meet up for long & crafty weekends 3 times a year. This was made as my gift for her (we each have a crafty partner who we make a handmade item for at the weekends).
Unfortunately I forgot to take my gift (slapped wrists) to our March meet and have sent this to her instead. Hope she likes it.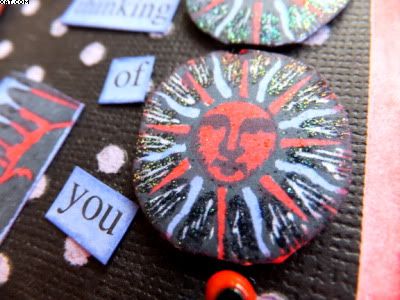 The box was made from heavy card which was subsequently decorated as shown in the same colourway as the brooch. The box sides and top were coloured with fired brick Distress ink and panelled with black magic coredinations card with a mauve core after passing through a spots embossing folder. The core was revealed by rubbing over the embossed spot with fine sandpaper.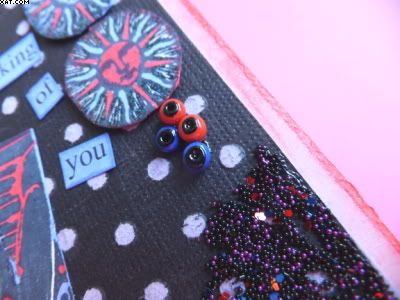 The decorative elements are made from stamps from Lynne Parrella made by PaperArtsy, stamped on white card with Memento onyx black, trimmed and coloured with red and purple Marvey alcohol brush pens. They were assembled after selectively heat embossing with kaleidascope embossing powder and a Versamark pen and mounting on foam pads. Some red and blue beads were adhered with Glossy Accents as was some Beadazzles as shown.
The box was filled with crumpled pink tissue paper to support the brooch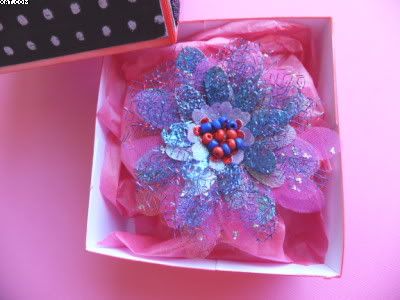 I used some flower dies from X-cut to cut a variety of different sized petals from organza, sparkle fabric, fused fusible fibres and silk. These were assembled in layers on a card base with hot melt glue.
Some of the same beads used on the lid were added with red embroidery thread and a needle to decorate the centre of the brooch.
Finally a brooch back was added to finish the brooch.
Hope she likes it !
Sid xx
Pin It