I recently ran a swap on UK Stampers Forum where players were sent two large jigsaw pieces to decorate in any way they liked. On my entry I decided to do a hanger with the two pieces joined. I used mainly diamond shapes and called my piece 'Pierrot' thinking about the diamond design often associated with the clown costumes.

I began by painting the two pieces separately with a grey/blue acrylic paint and gave the pieces two coats. I then joined them together and put some backing paper on the back to hold them together whilst I decorated them.

I used a foam diamond design stamp from Making Memories and painted metallic blue paint onto it and stamped this onto the pieces and allowed to dry. Next I used a text plaque stamp from Cherry Pie and inked this in Versamagic Chalk inks in oasis green & sea breeze and stamped over the diamonds 4 times. I then used Gelly Roll Souffle pen to outline some of the diamonds (green & grey).



I made the letter 'p' ages ago and it is a wooden letter triple heat embossed with metallic pearl embossing powders in black, blue, green & gold. A paper flower was coloured with metallic blue paint and the chalk inks and applied with adhesive after using a pastel blue brad to decorate its centre. The 'p' was stuck in place and the other letters coloured with Copic marker and placed as shown. the centre of the p and the letters were given a light coat with Stickles glitter glue in crystal. Some green oval cabochons were applied as shown.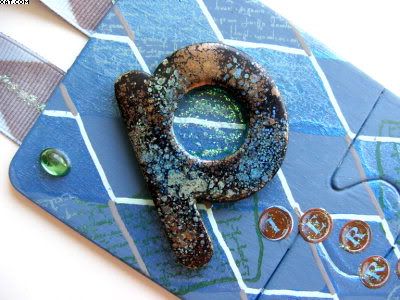 Finally a piece of grosgrain ribbon was stamped with a single diamond in vintage sepia Versafine and dots of Stickles applied along the centre of the diamonds. This was attached with glossy accents at the back as a hanger.
Hope whoever gets it, likes it.
Sid:-)


Pin It