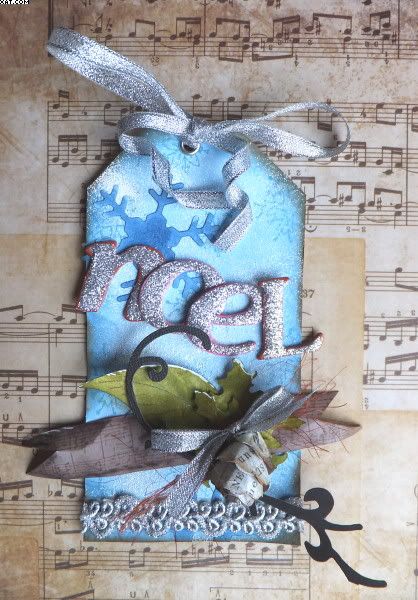 In the best traditions of following Tim Holtz '12 Tags of Christmas' for 2011 this is my first offering. Not quite using all of the Ranger materials but certainly using some of the techniques.
I Started with a blank tag and covered with a piece of printed paper (snowflakes). Gave it a coat of picket fence Distress Stains and dried with the heat gun. Then used a couple of small snowflake stamps and stamped randomly with faded jeans Distress Ink. Finally applying a sprinkling of seafoam white embossing powder and heating from below until melted. The tag was then edged with vintage photo Distress Ink.
Then I prepared the diecut letters to spell out 'Noel'. These were coated with fine silver glitter after a liberal coat of pva glue and allowed to dry.
The embellishmnents were all cut using Sizzix dies (Non-Ranger) and the pine cone made by hand by cutting a spiral with a wavy edge. The leaves were cut from card coloured with shabby shutters Distress Stain. and the banner was made by hand and stamped with a music stamp in vintage sepia Versafine ink. Other additions were some strands of brown sisal and a little silver bow along with a die cut stem from another Sizzix die. All were assembled using various foam pads and glues at the bottom of the tag.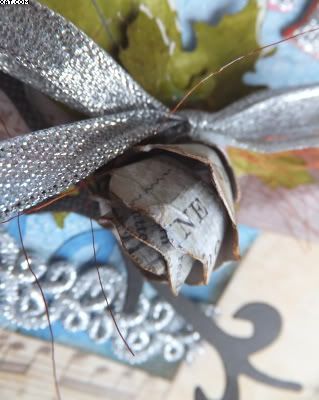 Some more large snowflakes were diecut out from blue paper coloured with faded denim Distress Stain and these were stuck onto the background. A piece of silver braid was applied at the base of the tag.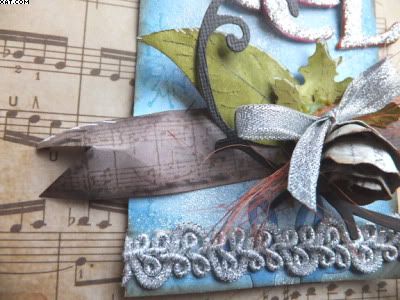 Finishing touches were to add a silver eyelet with the crop'a'dile and to tie through with some more of the silver ribbon.
Sid xx
Pin It