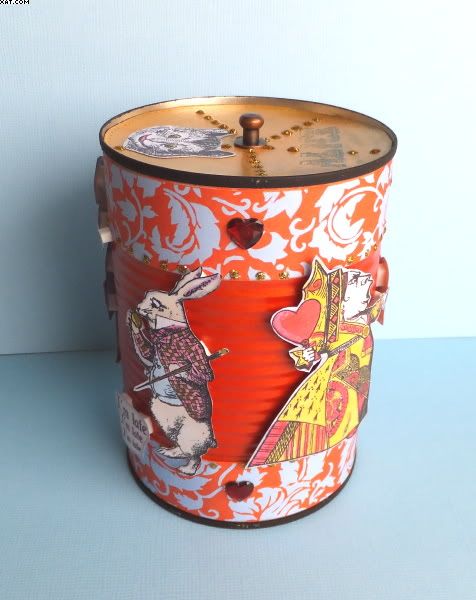 Here we go with an altered bean can !! I am a great AIW fan and love these stamps from
Crafty Secrets
so I went ahead and decorated a ring pull can in that style.
The can was prepared by removing the label and painting the central region with a couple of coats of Viva coral Precious Metal Colour. The top and bottom rims were coloured black with Ranger paint dabber. Next, 4 strips of coral and blue printed paper were cut and stuck in place with photo glue at the bottom and top of the painted can.
Big bit next, the stamps were chosen and stamped on smooth white card with black soot Distress ink and dried with a heat gun. The images were then coloured with Spectrum Noir alcohol markers in a variety of colours before cutting out and sticking in place on the centre of the can with foam pads.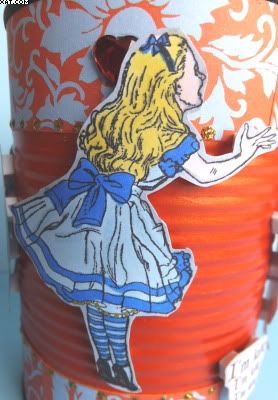 The lid was cut from black stout card with a die and heat embossed with the alice text stamp and detail clear embossing powder. The lid eas then rubbed over with Viva Inka Gold and polished off with a soft cloth revealing the resisted heat embossing. The cheshire cat image was stuck in place with Glossy Accents. A TH hitch fastener was screwed in place in the centre of the lid as a handle.
Red faux heart gems were then stuck in place around the top and bottom bands of the can.
Finally dots of gold Stickles were applied to add some bling.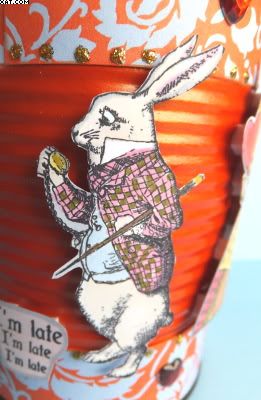 Thought that this one would fit in with The
Just For Fun
challenge whose theme this week is Kitchen Finds.
That's it !! My AIW altered can.
Sid xx
Pin It