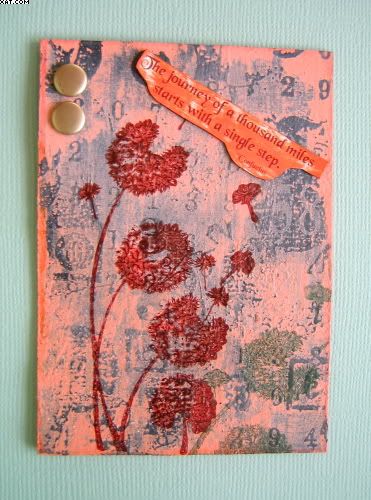 This ATC uses an acrylic paint resist as a background and the stamped seedheads are releasing their little seeds into the wind on a journey to their destination. That sounds awfully philosophical I know but I thought it was a good representation in this case.
The background ATC was cut from grey backing board from a pack of stamps. This was then painted with a metallic granite acrylic paint from Inscribe. Once dry the painted surface was stamped with Versamark ink with a numbers background stamp from PaperArtsy. The stamped image was heat embossed with detail clear embossing powder using a heat tool.
A coat of peaches 'n cream DecoArt acrylic paint was then applied over this and allowed to dry until tacky. The peach paint was then roughly removed with a paper towel moistened with water to remove some of the paint revealing the background colour showing through the embossed image. Once a pleasing effect had been obtained this was allowed to dry thoroughly.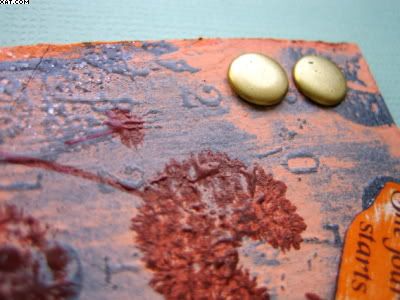 The distressing is textured and raised and looks really good as hopefully captured in the pic above.
Next step was to stamp a couple of seedhead images from 'My Minds Eye' with the acrylic stamp in Coffee bean & pearlescent ivy Brilliance ink as shown. These were dried with the heat gun as this ink is a pigment ink that dries rapidly on absorbent surfaces. A blob of rock candy Distress Stickles was added to the bottom left of the card and spread with my finger before drying with the heat gun. You can just see the sparkle on the close-up.
Two brass snaps were added using the crop-a-dile and a Chinese motto was inked with Impress tangerine ink, trimmed and stuck in place. The ATC was finally edged in orange chalk ink.
Sid xx
Pin It