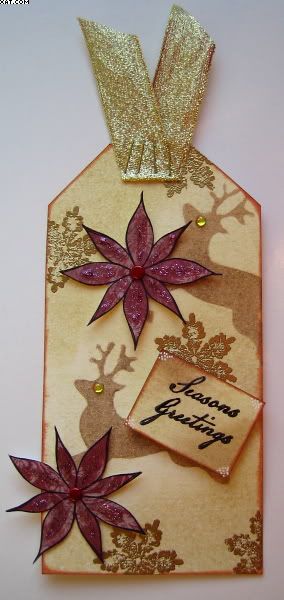 Just got a little time to spare this afternoon so decided to make another Xmas tag. I had a reindeer stencil and thought I would use this as a base design along with golden snowflakes. I used muted neutral colours to keep the whole tag soft but rich looking.

The white base card was cut to size. I then used scattered straw Distress ink and cut'n'dry foam to colour the background. I used a couple of coats and applied the second coat more heavily around the edges of the tag. I dried in between layers with a heat gun.

I then applied the reindeer stencil and used brushed corduroy Distress ink to colour the reindeer a nice brown. The card was then spritzed lightly with water in a mini mister and allowed to dry naturally. This provided a slight speckling over the applied inks.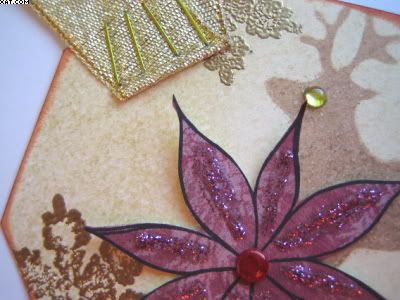 When totally dry I rubbed over the inked surface with an anti-static bag and stamped a snowflake stamp (?) inked with Versamark in and stamped randomly over the tag. This was then heat embossed with gold embossing powder. Next a poinsettia stamp from
PaperArtsy
was inked with black Stazon and stamped twice on printed dark pink background paper. The images were cut out and applied as shown with a dark pink brad. These were enhanced with pink Stickles glitter glue.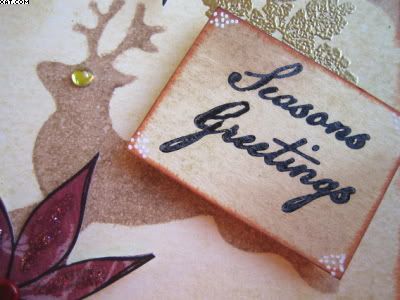 Finally the word plate was stamped in black Stazon and coloured with the same two Distress inks. Before applying this with foam pads it was edged with burnt sienna Chalk Ink along with the outside edge of the tag. I added a couple of yellow flat-backed mirror cabouchons as reindeer eyes with glossy accents and added a few spots of white with a pigment pen to the corners of the plate.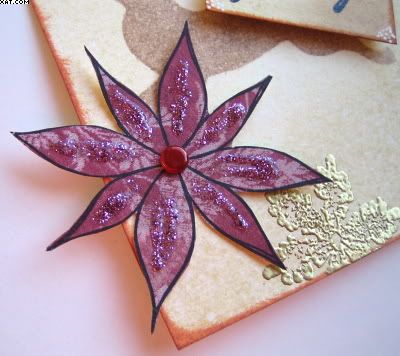 Finally a piece of gold woven ribbon was trimmed, folded over and applied with 4 gold staples. I thought the rosy colour of the poinsettia just offset the neutral tones of the background nicely.
Sid xx
Pin It