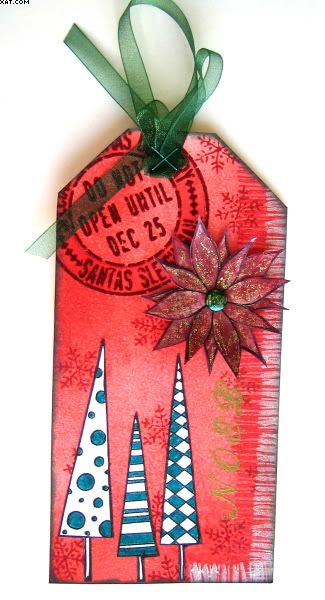 Yet another Xmas tag (in the style of Sir Tim !). This one uses a number of stamps all from
PaperArtsy
.....except one from
Karantha Designs
(Sarah Lawrence). I wanted to use traditional Xmas reds and greens on this tag.
The base was pale pink card cut to the tag size and shape. This was then covered in fired brick Distress ink applied with cut'n'dry foam. This was then spritzed with plain water in a mini-mister and dried with a heat gun. The 'Do Not Open' stamp was inked with Versamark ink and heat embossed with maroon embossing powder. The outside band of the stamped image was darkened with a waterbrush and more ink from the inkpad before drying again with the heat gun. A small smowflake stamp was inked with more fired brick Distress ink and stamped randomly over the remaining tag surface to form a background.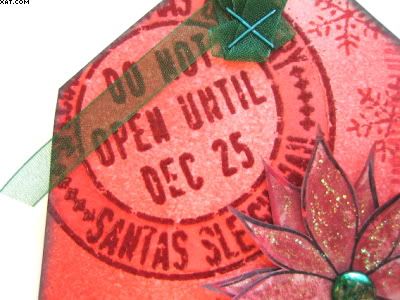 In the meantime, the 3 trees were stamped onto the pale pink card with black Stazon and then cut out. The designs were coloured with a dark green Marvey Le Plume II pen before sticking in place at the bottom of the tag. Next the work NOEL was assembled with clear Sizzix stamps and inked with Versamark ink and stamped and heat embossed with detail gold embossing powder.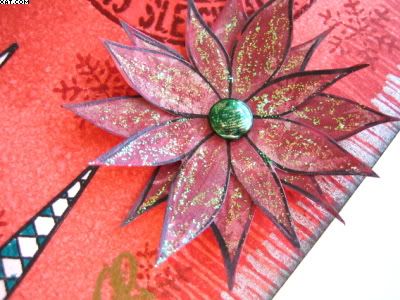 The poinsettia was stamped twice onto dark red patterned paper and cut out, the two images were then aligned and a silver brad was used through the centre after colouring with a dark green Sharpie pen. The poinsettia was lightly coated with Stickles glitter glue and put on one side to dry.
The Karantha stamp was first inked with signal red Brilliance ink and stamped down the right hand side and along the bottom of the tag. The same stamp was cleaned and inked with starlight silver Brilliance ink and stamped again slightly off the side. This gave a sort of fringed effect which I liked. The poinsettia was attached with the brad as shown and a piece of green organza ribbon attached with two green staples. Finally the whole tag was edged in dark green chalk ink to finish.
Sid xx
Pin It