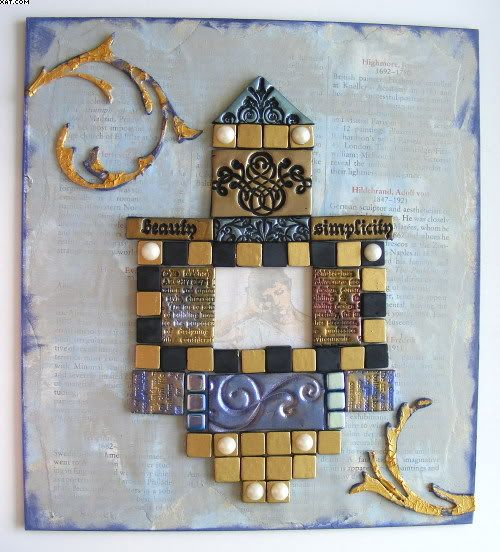 Here is a tiled plaque I have called 'Simple Beauty'. It is 8 ins x 9 ins in size. I have made the tiles mainly from Fimo Classic polymer clay. The base is made from mountboard which has had a piece of old book paper applied after tearing the edges. Pale blue acrylic paint was added and wiped off in places to let the text show through. The whole board was then given a very watered down coat of translucent gold glaze and allowed to dry.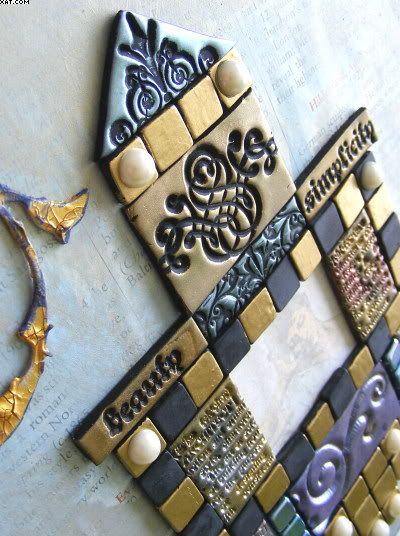 All the other tiles are made from black classic Fimo apart from six small glass mirrored beads made by Guttermann. The clay has been rolled out through a pasta machine to condition before adding mica powders with my finger to leave the black deboss of the stamped design. I have used various stamps in text & swirls, cutting the shapes out with a thin clay blade. The tiles were then baked at 130C for 40 minutes and allowed to cool. The design was layed out on the base board until happy with the overall effect.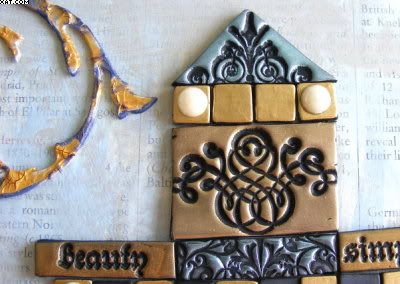 All the square tiles are made from black opaque glass, some have been painted gold with Viva metallic paint and some left unpainted. Some of the others have been embellished with faux pearl cabochons.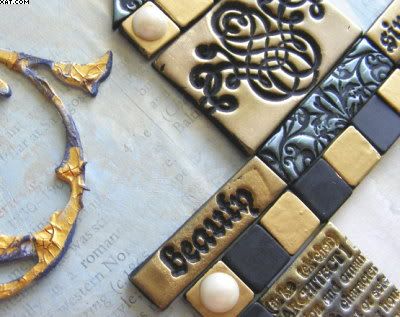 The main central picture was stamped (
Cherry Pie Stamps
) on plain copier paper, coloured with watercolour and a coat of transluscent gold glaze. Once dry cut out to size and stuck on the base board.
All other tiles were then stuck in place with clear glue gel as shown.
The two swirls were made from grungeboard and were treated with Viva gold crackle paint applied thickly and unevenly with a palette knife. Once this had dried dark blue chalk ink was applied direct from the pad to obtain a roughly coated finish. That crackle paint just looks like gold leaf once dry and adds a different texture to the swirls.


Pin It