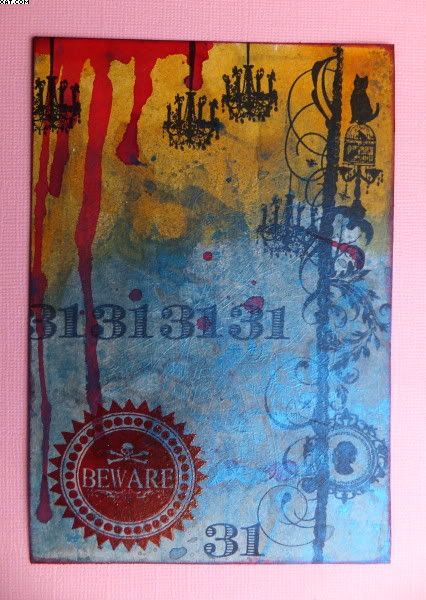 Here is my October postcard for the monthly 'Naked Postcard' swap over on
UK Stampers
! Bet you can't guess what the theme is.
Yes, it's Halloween of course !
My postcard started life as a piece of A4 plain copier paper which I treated with a homemade blue and silver mica powder spray leaving a portion at the top unsprayed. I let it dry naturally and built up a couple more layers until happy with the sheen. I then trimmed out a suitable piece to 6 x 4 inches. The top of the piece was coloured with wild honey Distress Stain applied direct to paper, overlapping the blue a bit.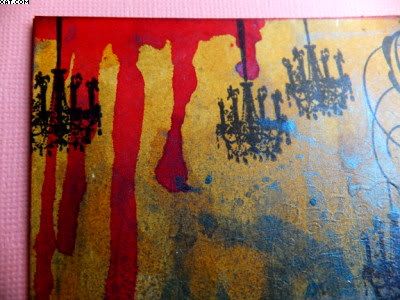 Next I dribbled a few drops of poppy Sticky Fingers Summer Ink from the top left and allowed it to drip down before drying with a heat gun. At this stage I sprayed liberally with cheap hairspray to set and seal.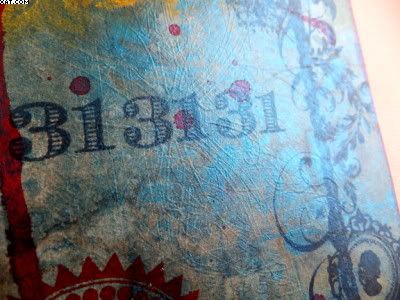 All clear stamps were from a set by
PinkPaisley
and the side border, 31 and chandeliers were stamped in Archival black ink. The 'Beware' seal was stamped in Versamark and heat embossed with Moonglow holly berry red gold embossing powder.
The paper was then stuck onto a piece of stout card with a glue stick and the card was edged with maroon Chalk Ink. I then sprayed again with cheap hairspray just to be sure it would travel through the post.
Sid xx
Pin It