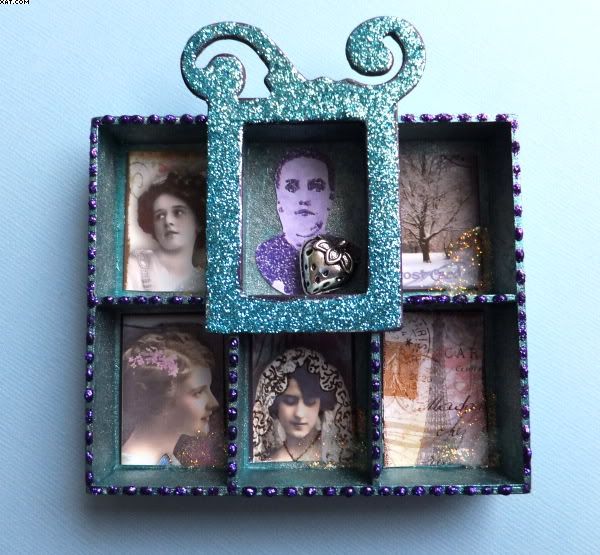 I have entitled this little wooden shadow box 'Beauty is in the eye of the Beholder' as the framed image is one of a rather stern looking lady whilst the other images are those of young and rather attractive vintage ladies. Nice to contrast the two I think.
The plain wood shadow box was first painted with one coat of Viva precious metal colour in turquoise. Once dry I cut down some
Crafty Individuals
domino sized images to fill 5 of the 6 boxes. These were then stuck in place.
I also used black Stazon and a swirl stamp to stamp the outside edges of the box.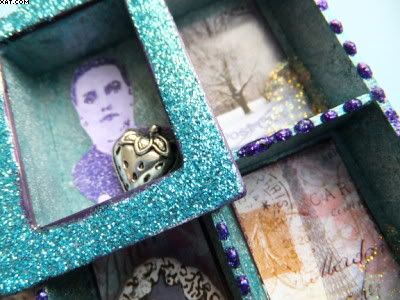 I edged the bottom right corner of the images with diamond Stickles glitter glue to add a little more bling.
The frame is also one of Crafty Individuals and was glittered to within an inch of its life with dries clear pva and fine turquoise glitter. Once the glue had dried all edges of the frame were coloured in purple alcohol ink pen.
The stern lady image was stamped in Versafine ink and heat embossed with Moonglow imperial crown purple gold embossing powder before trimming out and colouring with Copic in pale violet.
This was stuck in place and a small metal strawberry charm was applied. Finally the glittered frame was stuck in place with Glossy Accents and each of the boxes edged with small dots of purple Stickles.
Sid xx
Pin It