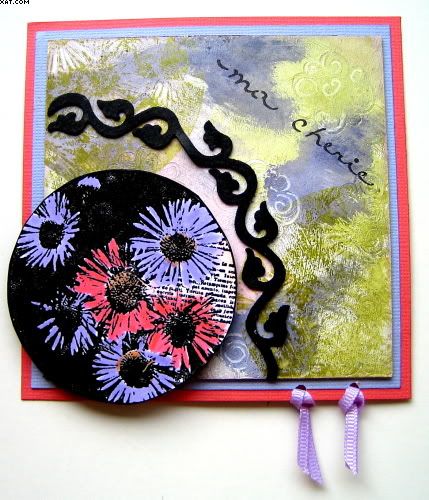 I have been watching the
RSS
(Ready Steady Stamp) challenge website for a while and have never taken part. I decided to join in this time and this is my entry.
This entry had to have at least three of the following ingredients:
* The letter M
* Purple, pink, green & black
* Stamped flowers
* Gesso on background
* Rubber
I managed to use all five of the ingredients. I first made the background out of a piece of brown backing card and cut it to a 4 x 4 inch square. I then applied Gesso roughly and stamped into this with a Klimt swirl stamp (?). Once dry I coloured the background with brushes and Adirondack dye ink in lettuce and eggplant. I used Memento angel pink dye ink for the pink in the background. Once happy with the overall effect I selected a flower stamp from
Tuscan Rose
and inked this with lettuce Adirondack ink and stamped on two corners of the background, providing a subtle image over the background.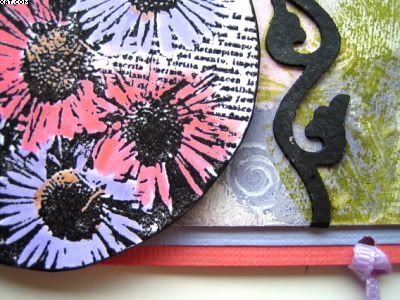 For the embellishment I again stamped the floral image onto white card but this time in Versafine onyz black and heat embossed with detail clear embossing powder before cutting out. I hand coloured the daisies with Marvey Le Plume II pens in appropriate colours as shown. This was later adhered on foam pads to raise the image a bit. I then mounted the background plate on two card mats, one in lavender and one in french pink.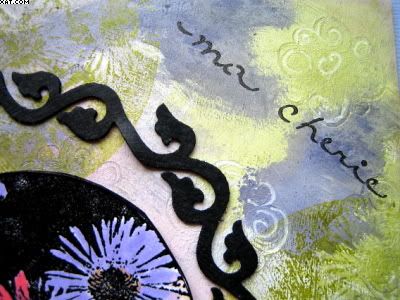 The black vine embellishment was made out of die-cut bike tyre rubber by a crafting friend of mine
Lorraine
and was given to me as a RAK some while ago. I knew I would get the opportunity to use it sometime and this was just that opportunity ! It was adhered carefully as shown with Glossy Accents. The beauty of using rubber in this way is that it's flexible and can be easily curved as desired.
The 'ma cherie' was stamped directly using more Versafine ink and a polymer stamp from Sizzix.
Finishing touches were added by punching 2 holes at the bottom and knotting through two pieces of thin lilac grosgrain ribbon.
Sid xx
Pin It