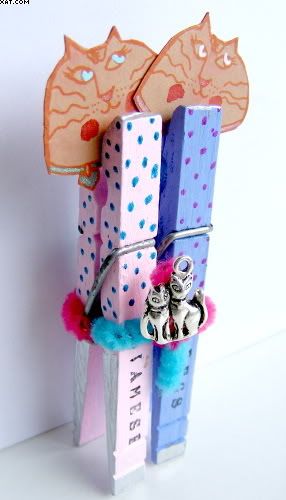 That Hazel (Dansmum), from UK Stampers set a swap to alter a peg or pegs in any way that you like. Inspiration came late in the day so I converted a couple of wooden spring pegs into a sort of set of twin cats. Because they were joined at the hip I entitled the piece 'Siamese Pegs'. No offence is meant in doing so, it's all in the cause of crafting !

I first dismantled the pegs and painted the them with Sherrils Sorbets in blue and pink (not really my colours at all !) allowing to dry overnight. I then reassembled them and decorated the top halves of the pegs with permanent pen in the opposite colour to the base colour. I then stamped the word 'Siamese' on the front of the pink peg and 'Pegs' on the blue peg in black Stazon.

I then used a blue and a pink pipe cleaner to join the two pegs, twisting to tighten at the back and the front and trimming the ends to a suitable length. The pegs are not stuck together at all. I added a twin cat charm with mini sticky dots to one end of the pipecleaner at the front.

I edged the bottom, top and sides of the pegs with Krylon leafing pen in silver.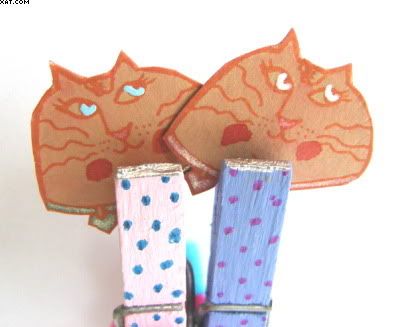 I then inked a Third Coast Stamp of a cat with Pumkin Stazon and stamped twice on light brown stout card, cutting out carefully with scissors. I painted with a waterbrush and distress inks and finished the eyes with Sakura souffle pens. The cats heads were simply gripped into the pegs (therefore they can be removed and rearranged as required). The pegs (ahem....cats?), do stand up with a bit of maneuvering and adjustment.




The piece was wrapped in fuschia tissue and tied with a blue satin ribbon.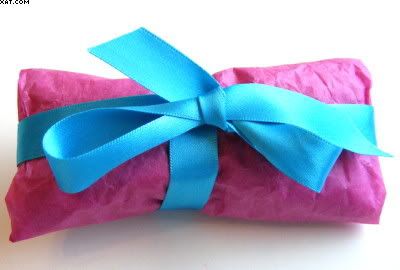 It was really fun to make and I used things that I would not ordinarily use and it took me out of my safety zone too.
Wonder who will get it?
Pin It