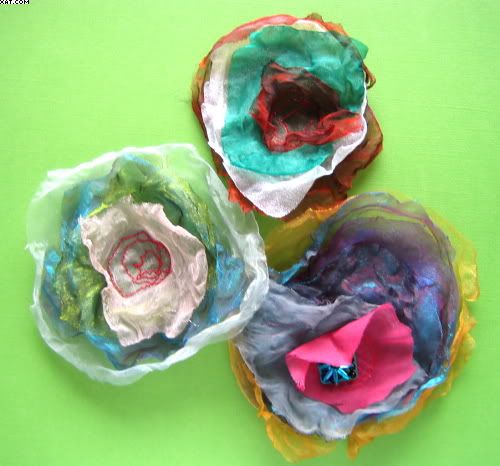 A week ago on Friday I had a fab visit to Middlesbrough where I met up with an avid bunch of crafters lots of whom contribute to the
Scattered Scarlet blog
on a regular basis. This visit had been planned for ages because they all have a regular day getting together at a local community centre where they set up shop with sewing machines and materials and make alsorts of fab things.
Some while ago I had bought a relatively cheap electric sewing machine mainly for sewing card and paper for my general papercrafting but had never really made anything with it in fabric. This was my chance at learning a thing or two from some very expert ladies who make their machines sing !! These are three chiffon flowers I made with rough cut layered circles of various chiffons.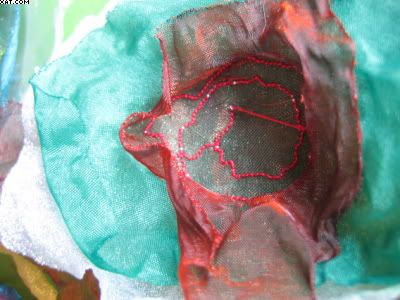 The technique is simple. Once the various sized circles are layered one on another a small square piece of paper is used to add substance and the machine is used to sew randomly in circles through all the layers and paper.
The next step is to heat carefully with a heat gun to melt and shrivel the chiffon so it curls and shrinks until a pleasant effect is obtained. Important to be careful not to set fire to the whole thing though!
I have sewn a square sequin and some black seed beads into the centre of one of them, to add a bit of further decoration by hand.
These could easily have a brooch back attached or alternatively could be used to decorate a simple cotton bag that you had made. Bit of a different departure for me but I really enjoyed the day with them............and learned such a lot of technique. The time flew by.
I had booked a local hotel for the evening and Jan kindly invited me to her home along with everyone else for a super barbecue which was cooked to perfection by the men in their lives. Thanks Jan !! We had a fab get together and I will definately be doing it again soon.
Sid xx
Pin It