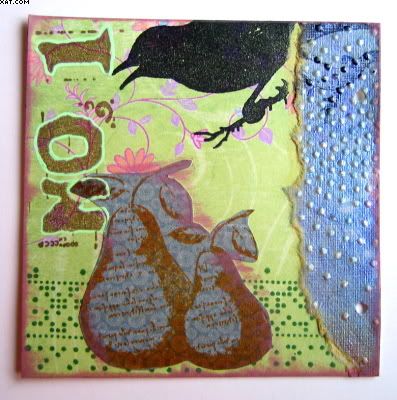 We are doing a weekly challenge over on
UK Stampers Forum
. Gail (Efemera) came up with the idea of doing a plate a week for 12 weeks representing the 12 days of.............. !
By this I mean it's not necessarily Christmas but roughly follows your interpretation of the famous Xmas song. So day 1 was 'On the first day of Christmas, my true love gave to me - a partridge in a pear tree'. The plates are eventually to be ribbonned together to form an accordian book of 10 x 10 cm square.
I first cut the plate out of fairly heavy cardstock and covered this with a piece of decorative paper (
Basic Grey
). I then stamped directly onto this at the bottom with a punchcard dot stamp (?) using Memento ink in cottage ivy. Next I used a pear stamp from
ISC
and inked this with spiced marmalade Distress Ink onto another piece of blue/grey printed paper (Basic Grey). I then trimmed this out and edged with malted mauve Versamagic chalk ink before sticking down with glue stick as shown.
Next a piece of torn spotty mulberry paper was stuck in place on the right and I used a crow stamp (
Time to Stamp
) and inked this with black Stazon and stamped at the top as shown. The stencil alphas (?) spelling No 1 were inked with vintage sepia Versafine and stamped as shown. Once dry these were edged with souffle pen in peppermint green to give them more definition.
The whole card was edged fairly heavily in more of the mulled mauve Vesamagic chalk ink to finish.
Sid xx
Pin It