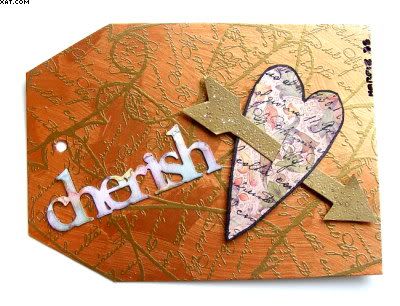 Here is another of my CJ entries for our latest CJ on UK Stampers Forum. This one had an arrow stamp and a colourway of Browns. We just had to use the stamp and complete one side of a page within the Journal.

I first painted the background with a thick coat of bronze metallic paint applied with a fan brush in a rough manner to give some texture and light reflecting properties to the paint. Once dry a rubber stamp of a heart (Invoke Arts - Textured Hearts from Once Upon A Stamp) was inked with Versamark and stamped randomly over the painted background and this was then heat embossed with detail gold embossing powder.

Next, the stamp was inked with black Stazon and stamped onto some printed background paper, cut out and set aside. The arrow stamp was inked with Versamark on white coarse card and heat embossed with the detail gold EP. This caused bubbles to disrupt the surface which I liked. This was trimmed out and edged in gold ink. The main patterned heart was slit with a craft knife and the arrow threaded through the slit to give the 'arrow through the heart' effect. This was applied as shown with 1 mm foam pads to add a little dimension.

To finish, a Making Memories aluminium word 'Cherish' was treated with Ranger alcohol inks in juniper, sandal & pink sherbet applied with an applicator and felt. The colours were chosen to compliment the background colours in the printed paper. Basically, that was it ........ I thought there was enough going on and any more would have spoiled it. Sometimes I don't know when to stop !!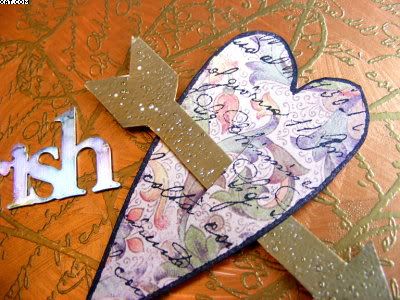 This shot shows some of the texture achieved with the paint and the EP. Hope the CJ'er likes what I have done.
Pin It