Here is an ATC inspired by a trip to the seaside and the sand dunes. The main stamp is a grass and birds image (
PaperArtsy
) and was stamped at the bottom in black Stazon. I then trimmed the base of the ATC with scissors to give it a scalloped edge.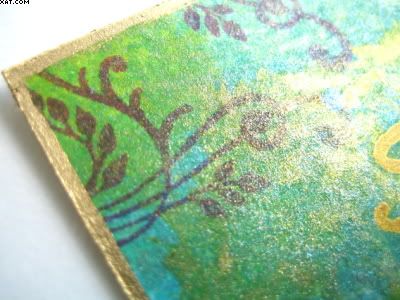 I then set about it with
Moonglow Starburst Stains
dabbers in a variety of colours, layering the colours until the depth of colour I wanted was achieved. The above shot shows the shiny glimmer the mica produces but which is very difficult to photograph. A swirl stamp was inked with Memento lilac posies dye ink and stamped a few times as shown.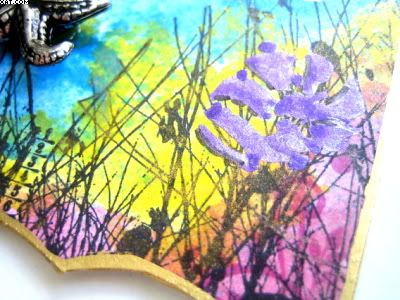 Some purple metallic paint was applied at the base of the ATC through a stencil. The letters are gold rub-ons and the metal starfish embellishment was attached with glue gel. The whole ATC was edged with gold
Krylon
pen to finish.
This one looks a bit reminiscent of Monet with its sploshy colours (not claiming that I am any kind of an artist though :-)).
Sid xx
Pin It