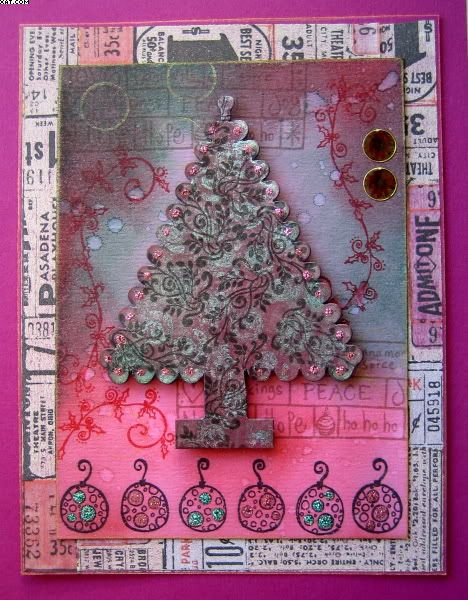 Well Christmas is nearly upon us and although I am not fanatical about the festive season I feel obliged (as we do), to do some festive creations. This one uses a diecut tree as the central piece and I have grunged up the surroundings with Distress inks and traditional colours.
I started with the a maroon card diecut tree and used a Quickie glue pen to draw on some swirls. Once the swirls had dried clear I sprayed liberally with a home-made mica spray made from silver mica powder a drop or two of gum arabic solution and some pine needles Distress re-inker - I usually spray in a pizza box to avoid the spray going everywhere! The glue swirls seem to attract the colour but not the mica and provide a nice effect whilst some of the background maroon colour still shows through. I then inked a small swirl stamp (
Crafty Individuals
) with Versafine onyx black ink and stamped randomly over the mica background. I then applied dots of pink Stickles around the edges of the tree and put it aside whilst I made the background.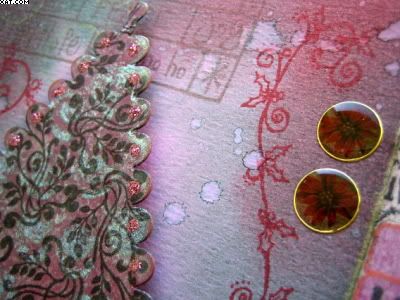 I took a piece of heavy pink card and trimmed to size and applied pine needles and barn door Distress ink with cut'n'dry foam keeping the top half of the card more green and the bottom more red. I stamped an Xmas plate in vintage sepia Versafine a couple of times as seen, a baubles border stamp in onyx black and a Christmas swirl in barn door Distress ink as shown. All these stamps are from
PaperArtsy
.
I spattered water drops randomly onto the plate and dried with the heat gun before adding pink & aqua Stickles to the spots in the baubles. A circle outline stamp (
Artistic Stamper
) was inked in galaxy gold Brilliance and applied a few times as seen whilst 2 acrylic poinsettia circles were stuck in place top right. The whole plate was edged with galaxy gold applied direct. The tree was then applied on foam squares as shown.
Another fuschia card plate was cut 1/2 inch bigger all round and this was edged in TH Tissue Tape leaving a 1/16 inch border at the outside edge.
That's it, my first Xmas offering for 2010 !
Sid xx
Pin It