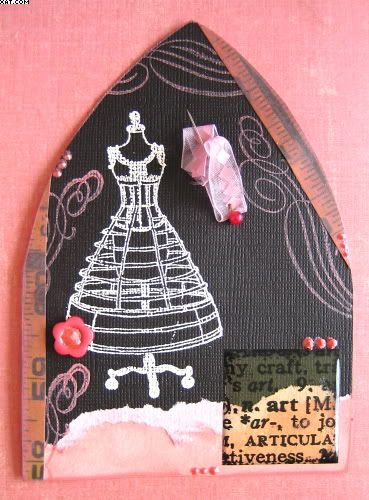 This arch was inspired by a piece of Coredintions paper which was black with a pale pink core. I cut my arch using a template and then tore one strip off the bottom of the card exposing the pale pink core colour. This was attached to the arch with glue stick after colouring the bottom 2 inches of the base with Versamagic pink grapefruit chalk ink direct to paper.
Next I took a dressform stamp (
Lost Coast Designs
) inked with Versamark and stamped onto the background, heat embossing with white opaque embossing powder. Next I took the same Versamagic ink and stamped several times with a swirl stamp as shown. A piece of printed ruler paper was also coloured with pink Versamagic and applied as shown at the edges. A piece of diamond chiffon ribbon was then attached with a pearl headed pin and a clear self adhesive plate stuck in place at the bottom right.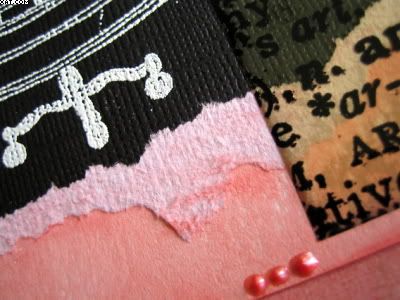 The dots were added using Appli-glue dimensional pearl paint in dusky rose and a pink flower button was applied and filled with Appli-glue. The whole piece edged with pink chalk ink to finish.
Obviously going through a pink phase at the moment.
Sid xx
Pin It