Well it's that time of the week again - Wednesday & that can only mean one thing WOYWW No.66. Julia over on the Stamping Ground Blog as asked us all to show a little of our workdesk or things related so here is mine. I missed posting last week........work got in the way unfortunately. Do try to visit the blog it's so interesting !

Anyway here is a fab tray of buttons that I have accumulated, plenty of choice for most projects here.

This second pic shows a little collection of allsorts on one end of my desk. And NO I don't wear hair lacquer before you ask just use it for setting chalks etc. At the bottom left is a little container with polymer clay canes in........waiting to be sliced and used in jewellery. I must get down and do some.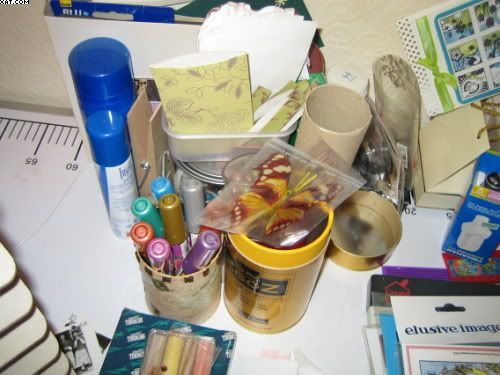 Hope you enjoy your mooch round everyones blogs, will hopefully have time to visit as many of your fab desks too.
Sid xx
Pin It