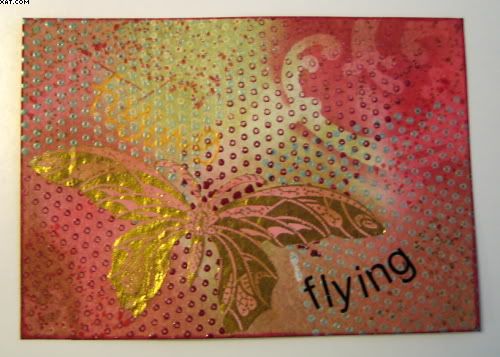 This postcard is oblong despite the apparent shape on this pic ! It was made as part of a swap over on UK Stampers Forum where we were to send mailart to a chosen swap member. This one goes to Lorraine.
I made it by cutting a piece of heavy white card to size (4.25 x 6 inches) and then stamping in Versamark with a dots stamp and heat embossing with maroon and pearl green embossing powders. Once cool I used Distress inks in shabby shutters, fired brick & peeled paint applied with cut'n'dry foam. A TH swirl mask was used in the top right corner and a fine dots stamp was stamped with the three colours of Distress ink to add a grungey look.
The butterfly was stamped, foiled and cut out and applied with glossy accents. The text was added with rub-on letters.
I finished by edging with maroon chalk ink. The reverse was treated with inks only and the text handwritten with maroon Marvey le Plume II pen.
This one is 'Flying' it's way to you Lorraine !!
Sid xx
Pin It