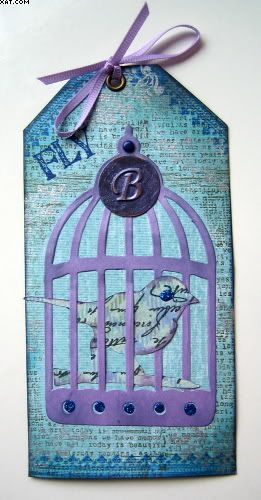 Recently there have been some fab swaps over on
UK Stampers Forum
and this or these (there are actually six all the same) were made to meet the challenge of using the Tim Holtz Sizzix alterations birdcage die in either a 6 x 6 inch piece or a tag. I chose to do tags and this is how I made them.
The colour choices for the theme came about as I looked through my papers. I had some fab pearlescent lavender card and I diecut 6 birdcages with the Big Shot. I then chose some plaid K&Co printed card in lavender, green and blue and diecut the 6 birds. Each bird was overstamped with a text stamp from
PaperArtsy
in onyx black Versafine ink and edged with wisteria chalk ink. An eye was applied with blue glitter glue and allowed to dry. I then started the tags with a piece of K&Co background card in mottled turquoise as the base and cut this to shape.
Next I used one of the birdcages and cut a mask to fit. The mask was placed and the tag background was stamped with moss green Chalk ink with a distressed text background stamp (Limited Edition) to cover.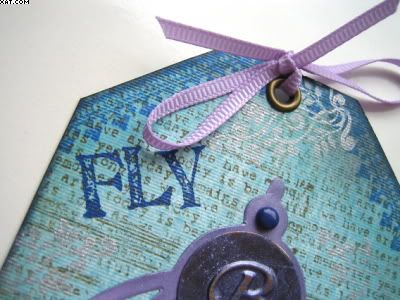 The bird and cage was applied to the masked area with glossy accents next and some blue glitter glue applied in the holes at the bottom of the cage. Once dry some tumbled glass Distress ink was worked around the edges of the tags.
I then painted some metal letter B's with metallic sapphire acrylic paint to be used as an embellishment. Once the paint was dry I sanded away the paint from the raised letter. I used aquamarine Stazon and a stamp from PaperArtsy to stamp the word FLY top left. The border stamp (
Green Pepper Press
) was inked with dark blue Whispers dye ink and stamped top and bottom as seen. The background was further embellished with a leaf motif (
Elusive Images
) with starlight silver Brilliance ink in several places.
The metal B's were applied with Glossy Accents at the top of the cages and a purple brad added at the cage hanger. A hole was cut with the crop-a-dile and a brass eyelet applied which was then tied through with lavender narrow grosgrain ribbon in a bow.
These will be in the post tomorrow.
Sid xx
Pin It