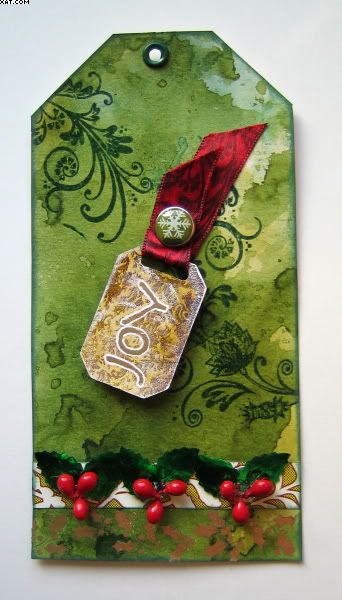 Here is another tag. This one uses green as the main colour theme, but also has red as a contrast. Not much stamping on this tag but I was wanting a Christmas holly style to it. Think I achieved what I wanted to, but I am never really satisfied with what I do. Must say though, often when I come back to what I have done next day, it almost always looks better. I think I get overload when I do a project from beginning to end in one session. What about you?

Anyways this began life as a pale pink base cut from card ! It was just what came to hand and because I was using a Distress ink background it really didn't matter.

I swooshed Distress ink in shabby shutters and pine needles onto a non-stick craft sheet and spritzed with water. Layed the tag face down on ink and lifted off and dried with a heat gun. This was repeated a few times (drying in between) until the background was to my liking.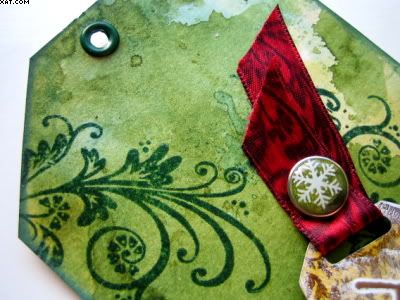 I then inked a swirl stamp (
Crafty Individuals
) with pine needles Distress ink and stamped in a couple of places and then heat embossed with detail fine clear embossing powder. This provided a nice shine and enhanced the green too.
I then moved to the bottom of the tag and cut a strip of
7 Gypsies
backing paper as the base of the embellishment and stuck this in place with glue stick. I then applied some red holly berries and shiny sequin leaves held in place with
Pinflair Glue gel
. This was allowed to set before the next step. Below this strip I applied some rub-on gold holly border.
Next I used a chipboard tag from a set of dovecraft tags and inked it with lightning white Brilliance to tone down the colour a little. To this I then applied the word 'JOY' as a gold rub-on and edged the letters with opaque pigment pen. I then took a short length of red satin ribbon and stamped it with the same CI stamp and pine needles Distress ink. Drying with a heat gun before applying a brad and mounting the tag as shown on foam pads.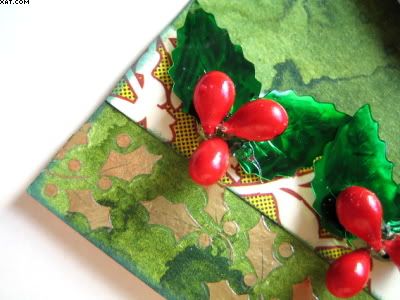 Finally I added a dark green eyelet with the cropodile and edged the whole tag with dark green chalk ink.
Sid xx
Pin It