Circus Clowns are one of those weird things that you either love or hate. Most of us have childhood memories of the circus and my own memories (being brought up as a kid in Blackpool & The Tower Circus) were that I was petrified of them. They always managed to put the fear of God in me for whatever reason.

With that in mind I recently bought a set of 'build a clown' acrylic stamps (Basic Grey) and as part of my monthly swap with Diane over in the USA we decided to do a Triptych ATC this month, hence the inspiration for this one.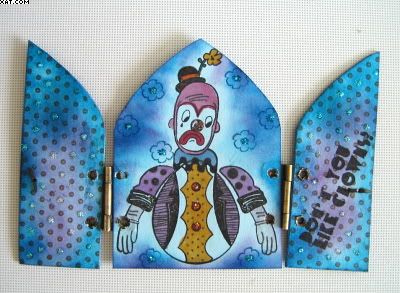 I started off with pale blue base card and cut two ATC sized pieces. I then cut the arch shape freehand across both bases and cut the top ATC in half lengthwise to make the 'doors'. The front panels were made from a background I had made previously with mica sprays. I used a polka dot stamp from
Tanda
to stamp the dots on the fronts and the insides in vintage sepia Versafine ink. The flowers on the bottom of the fronts was a border stamp (?) inked first with black cherry Stazon ink. The clown stamps were inked with onyx black Versafine and the clown was built. The words were stamped similarly on the inside right 'door'.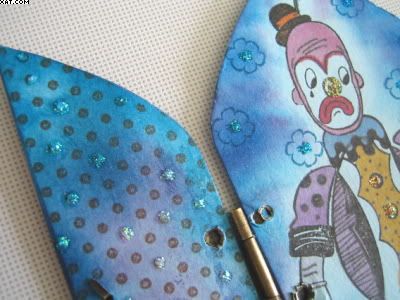 I then used Nick Bantock inks in cerulean blue, prussian blue and damson plum applied with cut'n'dry foam to colour the inside of the card. The clown itself was coloured with Copics and a flower stamp was inked with prussian blue and stamped around the clown.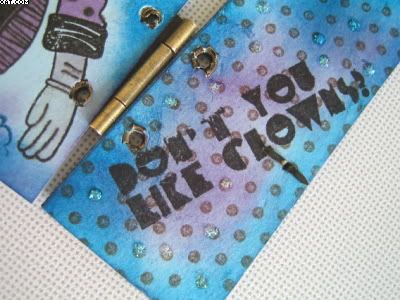 Next the hardware was added. I used two brass hinges and attached the doors with eyelets applied with the crop-a-dile. The door knobs are two brass effect brads.




Pin It