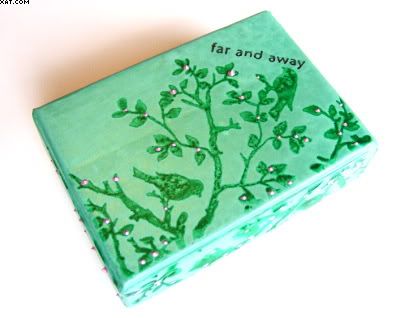 Here is a little box I have decorated for an altered swap over on UK Stampers Forum. The brief was to use something which had grown from the earth or in the sea and to turn it into a piece of art for swapping.

I had collected a piece of very lichen covered deadwood from under some trees ages ago and this has sat in my hall waiting to be used ! I had a plain box which is 8cm long x 6cm wide x 3cm deep. I painted it in a pale green semi-gloss acrylic all over and allowed to dry. I then used a couple of rubber stamps from Crafty Individuals (one a single bird and the other a branch with birds) in eden green Stazon on the top, 3 sides and all sides of the base of the box. Once dry I sprayed desert moon gecko green Glitz Spritz generously on all surfaces and allowed this to dry naturally. Once dry I added tiny blobs of pink Pearly Doodles dimensional paint to represent blossom on the leaves and branches on the top only. The words 'far and away' were stamped on the top of the lid in black Stazon. The mica shine does not show very well on the shots unfortunately, but they are quite shiny !





I then stamped 3 birds eggs (PaperArtsy) in vintage sepia and used a waterbrush and Marvey le Plume II pens to colour the eggs in green, blue and brown. Once dry I applied Versamark from the pen and heat embossed them with clear detail EP. I then trimmed them out carefully.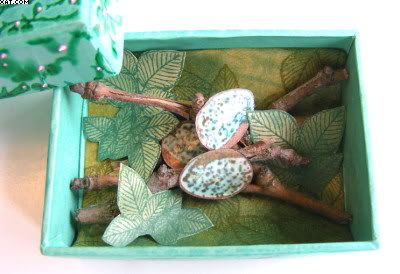 I wanted to make a leafy background and on a piece of beige paper stamped a leaf stamp (
Crafty Individuals
) onto a background made with Distress inks in pine needles, shabby shutters and peeled paint. Three of the leaves were trimmed out for decoration. The background was stuck in place with double sided tape.
I broke my twig into useable sized pieces and stuck these in place with clear silicone glue, arranging them to suit. The eggs and leaves were then shaped and also applied the same way to provide a 3D effect..........loosely resembling a birds nest ! I am quite pleased with the effect overall and its great to use natural pieces in your artwork too.
Hope you like it :-)
Pin It