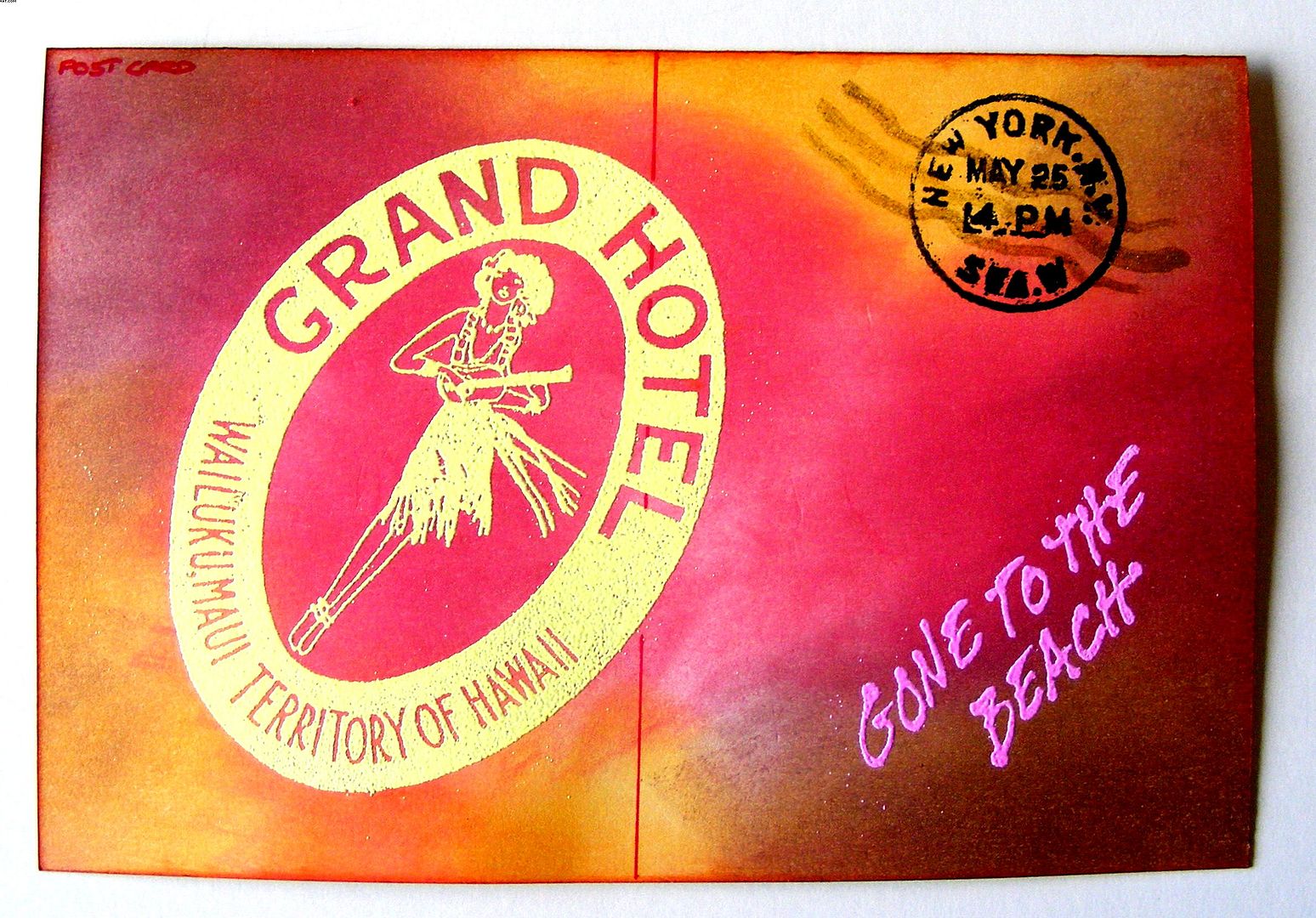 This is my entry for the UK Stampers Sunday Challenge for this week. The hostess wanted us to produce a 10 x 15 cm postcard with the destination of USA. So I went a bit abstract and not true to theme exactly..........but who cares ! This is how I made it.

I needed:




White card (cut to 10 x 15 cm)


Adirondack Inkpads (Cranberry, Butterscotch & Espresso)


Make-up sponge


Versamark Inkpad


Ranger Embossing Powder (Lemon Yellow & Magenta)


Stazon Inkpad (Jet Black)


Gold Artist Ink


Marvey le Plume II pen (Crimson Lake)


Colorbox Chalk Ink (Burnt Sienna)


New York Postal Stamp (Crafty Individuals)


Grand Hotel Stamp (Inkadinkado)


Gone to Beach Stamp (Vap Scrap)
I coloured the card using the Adirondack Dye Inks applied in a circular motion in layers with the make-up sponges to achieve the background colour effect. I wanted warm and rich colours to give the impression of a warm beach. Once happy with the effect I heat set with a heat gun.
I then inked the Grand Hotel stamp with versafine and heat embossed with the lemon yellow Ranger EP. Next I inked the gone to beach stamp with Versamark and this time heat embossed with the Ranger magenta EP.
I then drew a line down the centre of the card with the Marvey pen and wrote postcard at the top left. I inked the postal stamp with Stazon and painted three wavy lines in gold artist ink to represent a postal frank. Finally edging the whole card with the chalk ink.
Hope you like it ! :-)
Pin It