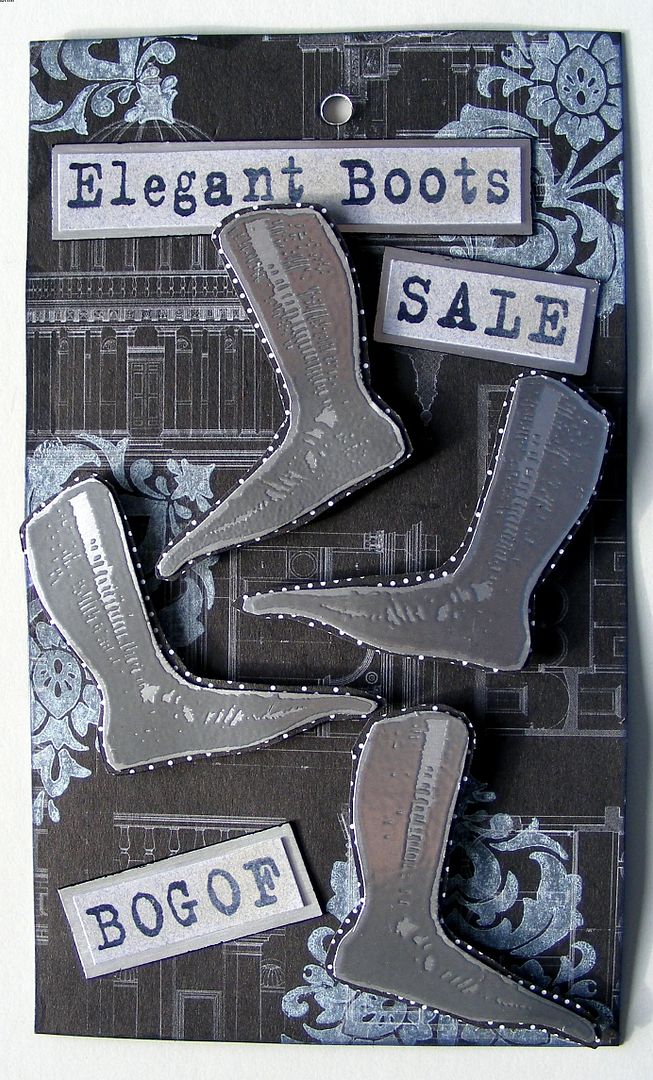 Here is my entry into Efemera's 'Grey' CJ as part of the UK Stampers Forum second CJ. Her CJ consists of tags held together by a single metal ring fastener. Her specific rubber stamp, to be used on each persons entry, is a pair of rather pointy boots (I assume from a Knight's suit of armour).

God, did I mull over what I was going to do on this one but finally had an image of a 'Buy One Get One Free' sale offer. Well they are not exactly elegant , are they? Maybe a Knight may think so though! Possibly the height of fashion for him !

Anyway here's how I made it:

Materials:

Printed background paper (Papermania - fine spots & architecture))
Versamark Ink Pad
Detail Silver Embossing Powder
Matt Silver metallic card
Grey card
Magnetic Alphas (Making Memories)
Stazon Ink Pad (Jet Black)
Pointy Boots rubber stamp
Flourish Rubber Stamp (Ilusive Images)
Brilliance Ink Pad (Moonlight White)
Foam Pads
PVA Glue
Glossy accents
The plain card tag was first covered with the architecture printed background paper using PVA glue applied with a brush. This was randomly stamped towards the edges with the flourish stamp using moonlight white Brilliance ink and this was heat set with a heat gun.
Next, the pointy boots stamp was stamped twice on the matt silver card in Versamark Ink and this was heat embossed with detail silver Embossing Powder. When cool the stamped and embossed images were carefully cut out and these were matted on the fine spots backing paper and again cut out with a 1/8th inch border.
Next the words were stamped with the magnetic alphas in black Stazon ink on the grey card and this was trimmed. The trimmed stamped words were matted on more of the matt silver card and again trimmed allowing a small border. They were edged with black stazon before applying with Glossy Accents as shown. Finally the adhesive foam pads were applied to the back of the cut-out boots and they were applied as shown.
It is now on its way to Hazel who is the next in posting line. Hope you don't have as much trouble deciding what to do as I did. That's it folks.
Hope you like it :-)
Pin It